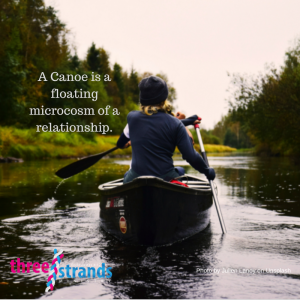 There is no easier way to go on an adventure as a couple than in a canoe.  A canoe is a floating microcosm of a close relationship. You got two people in the same boat, each equipped to move the vessel. Sometimes they glide through perfectly calm waters together.  Sometimes they are carried along by strong currents. Sometimes they are buffeted by waves. And sometimes they must make their way against the stream.
When they work together, heading towards the same destination, they can make their way through any conditions. When they try to work separately or head in different directions, things get unstable.
To illustrate the point– and to enjoy some time on the water together– plan a canoe trip for two.  We live in an area where their are many lakes.  If you have had some experiences canoeing on a lake, one of the best lakes to canoe is Lake Caddo near Jefferson.   If you have not had much experience on the water you may want to choose a place where you can easily get to shore.
How to Prepare
Ahead of time determine where you will go to rent or borrow a canoe. You will want to make sure you have safety equipment including a life vest, a small first aid kit, flashlights, a water proof container for your phone, and some food for the day. A well packed picnic lunch can be the key for a great day on the water.  Remember bug spray and sunscreen. If you are accident prone, you may also want to pack an extra change of clothes in a water tight bag.  Tie the bag to the canoe so you don't lose it in the event the canoe tips over.  Let someone know where you will be going and when they can expect your return.
Before  your canoe date, spent some time in prayer together. Thank God for the privilege of sharing a boat with your significant other on the river of life.  Ask him to bless the time you spend together in the canoe; give you safe travels; help you work together as partners keeping your boat pointed in the right direction.
If you have not paddled before you may want to get some introductory lessons from a friend.  Be prepared to laugh as you learn to row towards a common goal and extend grace when you begin to row in a circle because someone won't follow your instructions.  Laughing at each other is better than screaming at each other.
During the Trip
A canoe trip, especially in remote areas, is a great way to escape from the hustle and bustle of daily life. Look for wildlife, spend some time fishing, or simply explore tributaries in the area.  Give yourself plenty of time to make it back before dark. This is a great time to talk about your future, dream about your next vacation, or simply relax in each other's presence.
Make sure you take some time for the picnic.  A well packed lunch with plenty of hydration can make all the difference in the world concerning whether you have a great day on the lake or spend the day hangry. Make sure you clean up after yourselves leaving nothing that can harm the wildlife.  A nap after a picnic is always a good idea.   You may need to use the bug repellent to create an area where you can eat and nap bug-free.
One the Way Back
On your way back spend a few minutes talking about the experience and what you will take away from it.  Use the following questions as needed to guide your discussion.
 When was the last time we"paddle together" in dealing with a situation or circumstance in our relationship? What were the results?
When was the last time we paddled separately? What were the results?
If our relationship is a canoe, how can we keep it pointed in the direction God wants us to go?
This makes for a great all-day date and if you add a trip to Jefferson after Lake Caddo it makes an excellent weekender.  Jefferson has some great Bed and Breakfasts and there are plenty of places to eat, spend some time checking out their shops or listening to music in one of their venues.
Want some other great ideas?  Check out 52 Uncommon Dates by Randy Southern.  This date idea was adapted from that book.
http://threestrandsministry.com/wp-content/uploads/2018/07/A-Canoe.png
800
800
Michael Curtis
http://threestrandsministry.com/wp-content/uploads/2018/05/Three-Strands-Ministry-Main-Logo-White-300x147.png
Michael Curtis
2018-07-12 03:15:19
2018-07-24 12:52:58
A Canoe Date