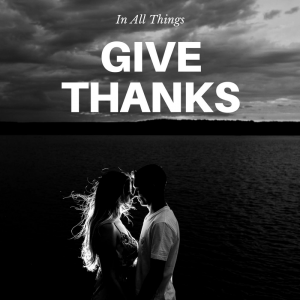 Give thanks in all circumstances; for this is God's will for you in Christ Jesus.  1 Thess. 5:8
"It will never be good enough."  If we don't hear it audibly we often hear this from our internal conversation.  The fact is that our culture and our world loves to focus on what is wrong instead of what is going well; we like to complain instead of giving thanks; we focus on the shortcomings instead of our strengths.  In doing so we develop a marriage-defeating attitude that is constantly eroding the intimacy between couples.  We would never think about criticizing our friends about their shortcomings but feel free to do so with our spouse.
Commit today to making a change.  Take time each day to give a small prayer of thanksgiving concerning your spouse.  Spend some time thinking/journaling about the positives in your marriage and then periodically follow up by taking 30 seconds to send a text telling your spouse what you appreciate about them.  Doing so creates a mindset of gratitude and refocuses what may have previously been a negative view of your marriage towards a positive view.  Over time this creates what researchers at the University of Washington call a "positive sentiment override (POS)."  The positive sentiment helps by allowing you to see your marriage and your spouse in a more positive light overall and provides a barrier of protection when things are strained in a marriage.  Work on your POS today and tell your spouse what you appreciate about them.
http://threestrandsministry.com/wp-content/uploads/2018/05/In-All-Things.png
800
800
Michael Curtis
http://threestrandsministry.com/wp-content/uploads/2018/05/Three-Strands-Ministry-Main-Logo-White-300x147.png
Michael Curtis
2018-07-16 20:24:43
2018-07-16 20:24:43
Give Thanks