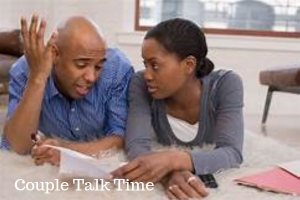 We normally think of these words as negative. The first thing that runs through your mind may be "What have I done now?"  But… they can actually be a great thing. David Clarke wrote a book called "Honey We Need to Talk". In this book he talks about how a man can use these words to control the conversation and prevent the inevitable spider webbing that results from talking to a woman. David created a formula for having successful deep intimate conversation with your spouse.
*The wife thinks of 3 topics she would like to discuss with her husband.
*The husband schedules three,  thirty minute "Couple Talk Time" meetings with his wife the following week to discuss one of the topics,
*The same topic is discussed at each meeting.
*The husband sends his wife reminders before each meeting.
*The meeting spot needs to be a neutral zone that feels safe for both people.  The bedroom is not an option.
*The husband begins the meeting and ends the meeting.
This puts the husband in charge of the topic of conversation and allows him the freedom to talk about one topic without being subjected to a wide variety of other issues.  It allows him to focus on one thing at a time which is more in tune with his natural abilities.  It also allows the couple to go deeper into a topic knowing that it will be discussed at each meeting. If research on the subject needs to be done, they have the time and freedom to do that before the next meeting. This gives both the husband and wife a sense of control over the topic of conversation because they both get input into what topic is. It also keeps the conversation in small manageable chunks of information.  This is a great tool to use for times of conflict, but it can also be used as a time for you to set aside to get to know your wife on a deeper more intimate level.
Example
Sally is concerned about not having a budget, the need for car repairs and her mother coming over for Thanksgiving.  She sends these three topics to Frank on Saturday.  Frank chooses the topic of budgeting and sets a time Monday night for the conversation.
Monday night they look at their bank accounts and discuss different ways they might set up a budget.  Sally agrees to research other ways and Frank agrees to bring account information concerning their spending over the past six months.  Next meeting is scheduled for Wednesday.
Wednesday night Franks shows Sally where they have been spending their money and expresses concern over how much they spend on eating out.  Sally shares a way they could budget using envelopes and Frank agrees to try this method.  Sally points out that Frank has been spending money on video games and expresses concern that he might not be willing to limit his spending on this hobby.  Frank gets a little mad but agrees to think about it until their next meeting, Friday night.
Friday night Frank has a number of envelopes and they divide their weekly budget placing the amounts budgeted for food, entertainment, rent, bills, etc in each envelope.  Frank has thought about his gaming and agrees to buy only 1 game per month.  This money is placed in the entertainment envelop.
Three conversations on a sensitive topic with Frank having time to process each step and both of them having a conversation on their financial goals and resources.  Both influence the other.  Both feel heard.  Both feel progress towards mutual goals have been made.  Win/Win/Win.
Using this Time to Share Your Life
Men you are aware that your woman wants to hear about your day and what is going on in your life. What is really going on inside of you spiritually, your thoughts, feelings, goals, life ambitions,etc. David suggests that men keep a notepad or electronic device with them to record events that happen during the day or of thoughts and feelings that might interest their wife. Then share these tidbits of information during Couple Talk Time.  Sharing your thoughts and feelings gives your wife the emotional support she needs to feel secure in the relationship.
This is a communication tool to put in your tool belt to assist you with that deep emotional connection that is desired by your spouse.
My husband and I have tried this and found it to be very beneficial in discussing topics that are often swept under the rug. I highly recommend you try this with your spouse.
http://threestrandsministry.com/wp-content/uploads/2018/09/Couple-Talk-Time-canva.jpg
400
600
KIMMY WATKINS
http://threestrandsministry.com/wp-content/uploads/2018/05/Three-Strands-Ministry-Main-Logo-White-300x147.png
KIMMY WATKINS
2018-10-13 18:47:44
2018-10-28 20:14:26
Honey We Need to Talk