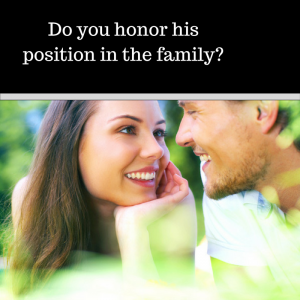 It is important in a Christian marriage to recognize the Hierarchy that God has put into place.  Read just a few scriptures related to marriage and you will see that the man is assigned by God to be the head of the family.  It is important to realize this is not an assessment of value. God does not value man above woman, nor does he give men the authority to treat their wives as a second-class citizen.  It does not mean that the woman is not smarter, wiser, or more spiritually mature; they may very well be. It simply means that in order for the marriage to operate in a structured manner someone has to lead.  In a Christian marriage this burden falls to the man.
I know this may cause some fear to surface.  What if he takes advantage? What if he treats me like a doormat?  What if he becomes abusive? These are valid concerns. However, if you married a good-willed man, he can learn to bear the burden of leadership with wisdom and grace.  It often takes time, especially in a world where their father's may have "checked out" during their childhood so that have no role model. There is fine line that family leaders walk between struggling with "control" and exercising "leadership."  Pride and immaturity often get in the way as we learn leadership. There are a couple of things you as a wife can do to help him grow in this process.
When he leads, follow.  Every woman enters a marriage with baggage and often it is the baggage of distrust.  Boyfriends, lovers, family members, husbands and even strangers may have hurt you deeply resulting in a lack of trust and a need for control.  However, if you are trying to be in control, you are saying he should submit to you. This is the reversal of the hierarchy provided in the bible.  As he is called to lead, you are called as a helpmate to encourage him when he leads and follow his lead whenever possible.
Have a discussion on what leadership means to each of you.  When should he ask for input? How should it be provided when not asked for?  Talk about the differences in how you see things and the value of having your opinion.
Offer your input and then let it go.  Trust that God is working in your life to learn how to follow and is working in his life to learn how to lead.
Expect failure.  Learning to lead is a process and he is only human.  When he fails, encourage him when you can, take the opportunity to learn and then move forward in humility and forgiveness.
Encourage him to attend men's events and groups through the church.  Events like "Band of Brothers" addresses leadership in the family and puts him in contact with other men of different ages that can act as a mentor.
Attend women's events that have biblical teaching on family.  Events like Hearts of Beauty allow you to meet women of different ages that help you learn how to positively influence your husband and deal with some of your past.
http://threestrandsministry.com/wp-content/uploads/2018/05/Three-Strands-Ministry-Main-Logo-White-300x147.png
0
0
Michael Curtis
http://threestrandsministry.com/wp-content/uploads/2018/05/Three-Strands-Ministry-Main-Logo-White-300x147.png
Michael Curtis
2018-03-10 13:55:55
2018-05-25 13:57:16
H is for Hierarchy