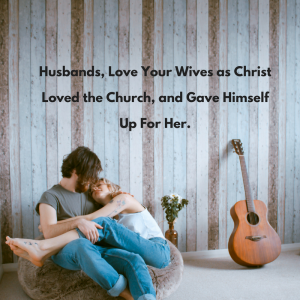 This verse from Ephesians takes on a different tone when we read it today, the day we remember the price paid by Jesus for His church; for you and me.  Almost any man will step in front of his wife instinctively when someone threatens her with harm.  Most men I know would take a bullet for the one they love.  But our calling as Christian husbands is a higher calling.  We are sometimes called to suffer.  When we look at what Jesus did for us before and on the cross, we see a man who was willing not only to suffer for us, but because of us.  This was a man praised and celebrated one day, and spit upon and cursed the next.  A man who had thousands commit to him, and then had those same thousands scream for his crucifixion just days later.  He was a man whose Bride one day adored him, and then, just moments later, turn their back on him while he was tortured.
The Passion of the Christ haunts me.  I have seen it a few times and may not be able to watch it again.  The image that most haunts me is the beating Jesus took with the cat-of-nine-tails.  The sound of the whip slipping through the air, the sound of the blow to his back, the tearing flesh as it is withdrawn for the next strike that was sure to come.  Jesus was crushed for my iniquities.  He was pierced for my transgressions, over and over.  This is the model I am called to follow.  I am called to stick it out with my spouse, no matter what the challenge, no matter how I feel, no matter what she has done.  I know there are some exceptions but if I am called to love her as Christ loves the Church, I am called to steadfast faithfulness and love no matter what.  It is an impossible order.
That is why before he left Jesus promised us a "helper."  The spirit of the living God who has the same power, authority, steadfastness, bravery, passion, perseverance, patience, sacrificial nature, and self control as the Father and the Son.  That Spirit is part of me and it is only when I rely on him that I am able to love my spouse the way I am commanded to love her, regardless of her behavior, regardless of our curcumstances, regardless of my feelings.  It is because of this spirit, this new nature that I can commit to steadfastness, I can commit to sacrifice, I can commit to real love.  You can to.  We may not have what it takes in and of ourselves, but we certainly have Who it takes.  I hope you spend some time today giving thanks for His sacrifice.
But He was pierced for our transgressions, he was crushed for our iniquities; the punishment that brought us peace was on Him, and by His wounds we are healed.  Isaiah 53:5
Shalom aleikhem.
http://threestrandsministry.com/wp-content/uploads/2018/05/Three-Strands-Ministry-Main-Logo-White-300x147.png
0
0
Michael Curtis
http://threestrandsministry.com/wp-content/uploads/2018/05/Three-Strands-Ministry-Main-Logo-White-300x147.png
Michael Curtis
2018-05-02 20:06:54
2018-05-02 20:06:54
The Role Model