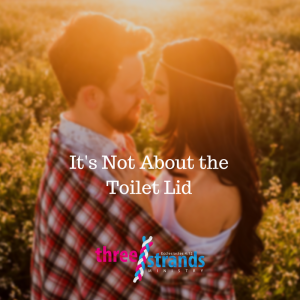 Last weekend many men returned from Band of Brother with a renewed commitment to their family, specifically their wife.  This weekend Three Strands Ministry sponsored an amazing weekend at Lake Catherine State Park where we spent time reconnecting with our spouses and considering how we need to commit to showing how much we mean to each other.  The problem is, a man often makes a commitment only to discover they have no idea what to do next.
It's Not About the Toilet Lid
It's about consideration.  I spent many years simply missing this point.  A woman wants to feel like she is special to you.  At one point we cared that her needs were met, that she felt special, we showed her consideration and held her in esteem.  Then we got married and the hunt was over.  She was bagged, tagged and mounted on the wall.  Marriage is not a hunt, it is a lifelong commitment to hold her in esteem, show her consideration, and seek out her interest over yours.  It is a commitment to learning to live with her in an understanding way and then making the sacrifices needed to meet her needs.  It's about not allowing her to fall into the toilet.
It is About Pursuit
Women need to feel desired and pursued.  Just so we are clear, grabbing her behind as she walks by may not make her feel desired.  A woman feels desired when you spend the time necessary to make her feel special.
Make plans to take her out next weekend and YOU handle the reservations for dinner and child-care.
Write her a love letter and mail it to her.
When you travel arrange for flowers to be delivered to her work or to home.
When she travels sneak a love note into her travel bag.
Open her car door.
Hold her hand.
Meet her at her office with a picnic lunch.
Take the kids to the park and send her out for a mani-pedi.
Write her some poetry expressing how you feel.  It doesn't even have to rhyme, just express how much she means to you.
 Don't Take Her for Granted
Your wife is not your maid, she is your helpmate.  There is a significant difference that many men miss.  Some men have the idea that they are in charge of the outside of the house and she should be in charge of inside the home.  I spent many years mowing and weed-eating the grass and then thinking my share was done.  I often wondered why it took her so long to do "housework."  Then I realized that "housework" was washing the dishes (which never ends), washing the clothes (which never ends unless you wash the clothes naked), cleaning the windows which get dirty almost immediately, dusting, cleaning the floors, putting the babies down for a nap, cooking, cleaning the dishes again, cleaning the floor again…you get the idea.  Some things to think about:
If she works, you may need to reconsider a redistribution of household duties.

Be considerate and rinse and put away your own dishes every once in a while.
Putting on a load of clothes once in a while will not result in the loss of your man-card.
Taking on some of the household duties full time will be greatly appreciated.

If she is a stay-at-home mom, she works.  Seriously, just try it for a month and you will run screaming from your home and will try and find a job anywhere.  There is no more demanding work than motherhood.  Try it and you will see.
She is a Princess
Men are designed to be warriors and many times we forget the battle is being fought, in part, for the princess we married.  There are powers in the world that will tell her she is not pretty enough, not smart enough, not worthy.  Those are the powers we battle.  However, the battle is often not fought with a sword, or even prayer.  It is fought with actions that tell her she is beautiful, she is amazing, and she is worth the fight.  Many times the battle is won by putting down the toilet lid.
http://threestrandsministry.com/wp-content/uploads/2018/05/Three-Strands-Ministry-Main-Logo-White-300x147.png
0
0
Michael Curtis
http://threestrandsministry.com/wp-content/uploads/2018/05/Three-Strands-Ministry-Main-Logo-White-300x147.png
Michael Curtis
2018-05-02 18:08:32
2018-05-25 14:31:23
It's Not About the Lid