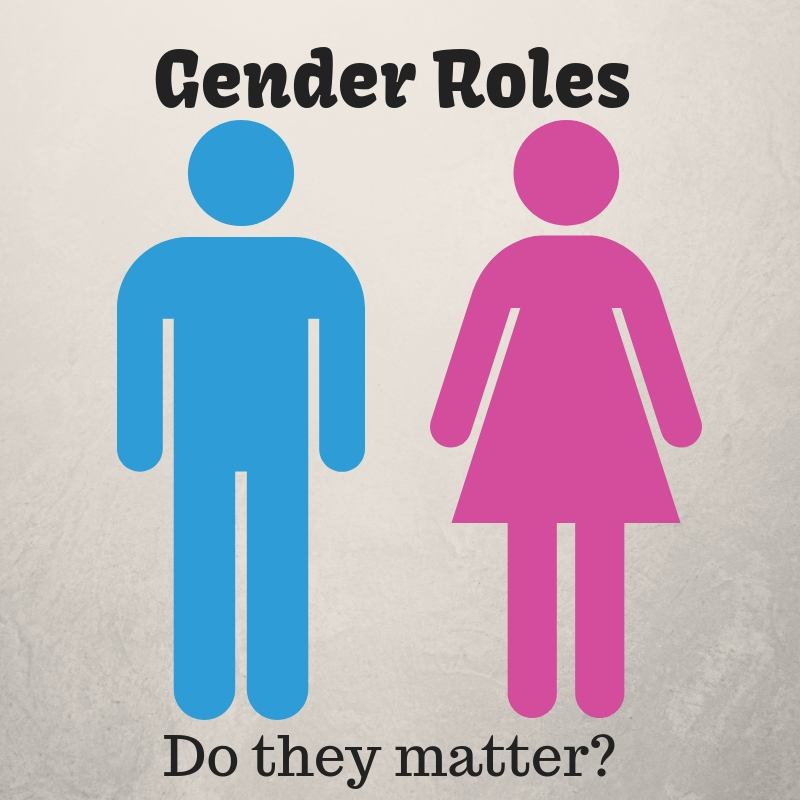 Have you ever really sat down and thought about gender roles? Or… do you just rely on the stereotypical roles set by society?  The roles set by society are fickle at best and always changing.  Should we change with them or should our roles stay the same? What does the bible say?
"Submit to one another out of reverence for Christ. Wives, submit to your husbands as to the Lord. For the husband is head of the wife, just as Christ is the head of the church." Ephesians 5:21-23 NLT
One thing for certain is the bible says the man is to be the head of the household.  The man is to be the leader of the family as Christ is the head of the church. Wives are to submit to the husband as they submit to Christ. But it also says they are to submit to each other out of reverence for Christ.
Ok… Hmm.  Well…
Tim and Kathy Keller in "The Meaning of Marriage" gives us a different take on this meaning of submission, leadership, and gender roles.  They tell us that marriage is all about love, respect, and service. That if we play our designated role in the marriage there is a freedom that comes with it.
THINK
Each of us have been given different gifts.  We are to operate within our gifts for the betterment of the family and church.  Having a specific gender role is different from this. If a woman has the gift of leadership, and her man doesn't, that doesn't mean she becomes the leader of the family.  It just means she is gifted in that area and can be a great helpmate for her husband and a great leader for the children, but the man is still the head of the household.
Tony Evans says the man and the woman are both equal in their value and worth in the sight of the Lord and this is clear in scripture.  Example: The man is the manager and the woman is the assistant manager so when an issue arises they both get to weigh in on the issue.  While the man has the ultimate responsibility concerning the family, both pay a critical role in decision making.  In those rare instances where a decision has to be made, and there is conflict concerning which option to choose, the man is burdened with the decision. This is actually quite freeing for a woman to know the man is the burden bearer in this situation.  Yet the man can take the problem to the owner who is Jesus Christ who ultimately bears all of our burdens. This is freeing for the man because Jesus is the final authority on every situation and the ultimate burden bearer.  After all he took all of our burdens to the cross and died for them so we could live forever with Christ in heaven.
So as you can see there is a freedom when you yield to the role Christ has designated for you.
Marriage is also to be a picture to the world of Christ's relationship with the church.
Let's take a closer look at each role.
Ephesians 5:25-33 shows us how the husband's role is like Jesus' role with the church.
    Husbands, love your wives, just as Christ also loved the church and gave Himself up for her, so that He might sanctify her, having cleansed her by the washing of water with the word, that He might present to Himself the church in all her glory, having no spot or wrinkle or any such thing; but that she would be holy and blameless. So husbands ought also to love their own wives as their own bodies. He who loves his own wife loves himself; for no one ever hated his own flesh, but nourishes and cherishes it, just as Christ also does the church, because we are members of His body. FOR THIS REASON A MAN SHALL LEAVE HIS FATHER AND MOTHER AND SHALL BE JOINED TO HIS WIFE, AND THE TWO SHALL BECOME ONE FLESH.This mystery is great; but I am speaking with reference to Christ and the church. Nevertheless, each individual among you also is to love his own wife even as himself, and the wife must see to it that she respects her husband.
Jesus sacrifices his life for the church.  Husbands are commanded to sacrifice their life for the wife.  This is how much husbands are to love their wives just as Christ loved the church.  A man goes about doing this by serving the wife. Think of Jesus washing the disciples feet.  This was an act of service and love.
Philippians 2:5-11 shows us how the wife's role is like Jesus' role with the church.
Have this attitude in yourselves which was also in Christ Jesus, who, although He existed in the form of God, did not regard equality with God a thing to be grasped, but emptied Himself, taking the form of a bond-servant, and being made in the likeness of men. Being found in appearance as a man, He humbled Himself by becoming obedient to the point of death, even death on a cross. For this reason also, God highly exalted Him, and bestowed on Him the name which is above every name, so that at the name of Jesus EVERY KNEE WILL BOW, of those who are in heaven and on earth and under the earth, and that every tongue will confess that Jesus Christ is Lord, to the glory of God the Father.
Jesus is equal with God.  They are one and the same.  However, Jesus humbled himself and became obedient to God and died on the cross for you and me.  This is an example of how much Jesus respected God and his authority. Wives are equal with their husbands and both have the same value and worth. But… the wife is commanded to humble herself and become obedient to the husband by submitting to him.  This shows how much the wife respects her husband and his God given authority. Additionally, it shows how much she trusts God, the writer of this scripture.  Wives can go about doing this by serving their husbands. Think of Jesus washing his disciples feet.  He humbled himself and became as a servant when he washed their feet.
We need to pray to have God's perspective and viewpoint on these things.  Tim and Kathy show us that both the husband and wife accomplish their role through serving each other as Christ served the church.  Both the husband and wife become like Jesus when they submit to their God given role. Which is why God starts Ephesians with submit to one another out of respect, honor, and reverence for Jesus Christ.  Meaning don't do it for each other, do it for Jesus because you love him and he loves you. I like what Kathy says, "If Jesus can do it, then I can do it. If he wasn't too good to serve, then I'm not too good to serve."  
God is so funny.  He commands us love, respect and serve our spouse and then gives us cravings for them. We are called to be like Jesus and give them unconditionally whether they are deserved or not.
As you can see the ultimate goal is to be like Jesus.  God uses our spouses to make us more like Jesus. Anytime we can do what we are called to do, then all glory and honor are given to God for working in and through us to make us more like Jesus.
https://threestrandsministry.com/wp-content/uploads/2018/10/Gender-Roles.jpg
800
800
KIMMY WATKINS
http://threestrandsministry.com/wp-content/uploads/2018/05/Three-Strands-Ministry-Main-Logo-White-300x147.png
KIMMY WATKINS
2018-11-23 06:57:38
2018-11-23 06:58:43
Gender Roles