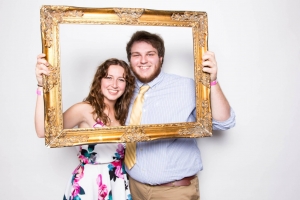 Melanie and Tucker Moore had a great wedding. The venue was nice and I loved the option of an evening wedding so everyone was not sweating in the sweltering heat of Texas in June. One of my favorite pastors officiated and Russ was authentic, humorous and wise.   The ceremony was short and sweet and we soon returned to the air-conditioned reception hall for dinner, visiting and dancing. Before long the bride and groom arrived and took the floor for their dance. They were a great looking couple.
Afterwards, the DJ called all married couples to the floor for the anniversary dance. Two dozen couples started the dance. The DJ called out years and slowly couples who had been married the least number of years left the floor. At five years a few couples stepped off. Then he called out ten years, fifteen, twenty, twenty-five, thirty and then thirty-two. Only five couples remained. At thirty-five Patty and I stepped off with four couples remaining. In the end it was a close tie between three couples, all of which had been married just over thirty eight years. The DJ identified the couple who had been married the longest, applause was given, and then the DJ asked the couple what advice they had for the new couple. All of a sudden I was glad it was not us. I am not sure what I would have said in the moment. The pressure!!!
This morning I woke up with the answer. The next time, if we are left on the dance floor, this will be my advice.
Enjoy the Journey
One day you will look back over your marriage and there will be a story being told. Think about what you want that story to be and start writing it today. Look for opportunities to make memories. Be able to tell stories about mountain climbing and Kayak trips, visits to Thailand and making out in the back yard. Be able to tell stories about kids and camping, home purchases and water heater leaks. Your marital story will be made up of moments grand and small. Give thanks for these moments each day and enjoy the journey.
Choose Each Other Every Day
Marriage is about choosing to love every day. Each morning I get up and put on two rings. On my right hand is a James Avery rendition of the wedding band Martin Luther's wife gave her husband. It shows the story of the cross and reminds me that God pursued me and paid a high price for our relationship. The second is my wedding band. It reminds me that I am given the chance to pursue and love Patty every day. It is not about feeling like I am in love; it is about getting to show love every day in ways big and small.
Love Face to Face and Fight Back to Back
Take the time to look into each other's eyes and express your love for one another. Swim in the romance and passion but be prepared to fight. Nothing good comes easy and a great marriages take a rumble now and then. Just remember, when you fight, the enemy is not your spouse. Fights will happen as two people choose to merge their lives. Just make sure you are fighting for your marriage and friendship instead of against each other for your own way. Your spouse in not your enemy. However, your marriage does have an enemy and when he attacks, you need to be fighting back to back. Never Give Up; Never Give Up; Never Give Up!
Thanks for the invitation and we hope you have an amazing honeymoon and life together. Blessings to you and your family.
https://threestrandsministry.com/wp-content/uploads/2019/06/IMG_9401.jpg
1365
2048
Michael Curtis
http://threestrandsministry.com/wp-content/uploads/2018/05/Three-Strands-Ministry-Main-Logo-White-300x147.png
Michael Curtis
2019-06-22 16:16:50
2019-06-22 16:39:46
Congratulations To Melanie and Tucker Moore