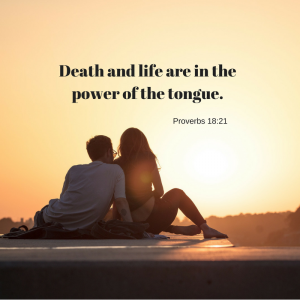 I can't remember the movie, but it has one of my all-time favorite quotes concerning marriage. In the movie a young woman is talking to a friend who happens to be a marital therapist. She is struggling in her relationship with her husband but continues to deny any need for therapy. During one particular fight she happens to run into her therapist friend and says; "I don't need therapy, but if I did, what advice would you give me?" His response is profound. He says, "Learn what you want and learn how to ask for it."
Mic Drop…
Strong communication and the ability to empathize with each other is one of the keys elements of a strong marriage. However, before we start working on how to strengthen our communication skills, we should define it and describe the different levels of communication.
Definition – Self-revelation in which someone reveals something about themselves and another person reveals something about themselves in response.
Hallway – This level of communication is what most of us experience as we walk down the hallways at work or church.
Reporter Talk – This level of communications takes place when we simply share facts. You may tell each other what you saw or what you did but seldom expand beyond that.
"Know what I think?" – At this level you share your ideas or judgments on a subject. This level of communication allows you to share a little more about your inner world as your opinions are based on your experiences, viewpoints and education.
"Let me tell you how I feel." – This is a high level of communication. At this level you share emotions and gut level feelings, hopefully in a healthy manner. The distance between this level of communication and the previous level is often a giant step. Many people find it hard to share their feelings on certain subjects or topics because they feel others may be disappointed or angry with them. This is risky communication that requires vulnerability and bravery.
"Let's be honest." – This is the apex of communication. This level of communication is the platform from which we can build an intimate, healthy relationship.   It allows us to speak the truth in love. It is where we are honest but not condemning; open but not demanding. It allows each of us the freedom to think differently and feel differently, trying to understand why our spouse feels and thinks the way he or she does all the while looking for ways to grow together in spite of the fact that we think differently and feel differently.
So, how much time each week do you believe the average couple spends on communication levels 3 – 5? Would it surprise you that the average couple spends less than 7 minutes a WEEK on meaningful, deep communication? Of course, that means that most of our day to day communication takes place at the same level as when we pass someone in the hallway at church on Sunday. Acquaintances pass each other in the hallway and the following exchange takes place; "Hi Tom. How are you doing today?" "Great Sally. How about you?" "Fine Tom. Thanks for asking." A wife comes home and is greeted by her husband. "Hi honey. How was your day?" "Oh, it was fine baby. How about yours?" "Fine."
Next week we will be discussing fighting, which is simply advanced reactive communication, if done well. However, this week let's spend some time communicating about some basic considerations for proactive effective communication.
Set Time Aside Weekly for Deeper Communication…
If possible, set aside a few minutes each day for checking in with each other. However, with our insane schedules, it may be more realistic to set aside an hour each week to catch-up. As children age, you may find yourself better able to make time daily. Remember, it is a choice to make time for each other. Create your own questions if you want, but at the very least share what is going on in your head and in your heart. If you need a place to start here are a few questions to think about asking each other.
Continue with the Cards…
The "Love Map" cards, provided in class a couple of weeks ago, are a great way to share both cursory and intimate information on an ongoing manner. The more you share your dreams, desires, expectations and even your favorite movie, the more you grow together as a couple. The more you show each other that you care about these things and are willing to work together towards them, the more intimate you become as a couple.
Treat Each Other with Dignity and Respect…
The people we love the most are often the ones we take for granted, and often hurt. We filter our negative emotions towards others as a way of showing respect towards those we have casual relationships with but often lash out without a filter towards our spouse. We can often be hurtful, impatient, critical, contemptuous and mean to those we love the most. Remember, you have the spirit of Christ living within you. Therefore, you have the ability to control your tongue, you just have to make the choice to do so.
Scriptures that Might Help…
1 Thess. 5:11 – Therefore encourage one another and build one another up, just as you are doing.
Encouragement is critically important in a marriage. In our world, there is a critic on every corner, on every channel and on every screen.   Wouldn't it be amazing to come home every day to a spouse who encourages you by recognizing your character and strengths? Giving thanks every day for your spouse helps keep you in the right mind-frame for a healthy marriage. Periodically telling your spouse why you are thankful for them helps them stay in the right mind-frame for a strong marriage.
Proverbs 15:28 – The heart of the godly thinks carefully before speaking; the mouth of the wicked overflows with evil words.
Think before you speak. Are the words you are speaking designed to build-up and encourage or will they most likely be destructive? Do you speak highly of your spouse in their absence? Do you speak words of encouragement to them? Even words of correction can be given in a way that is not destructive to a marriage.
Proverbs 15:1 – A gentle answer turns away wrath, but a harsh word stirs up anger.
Even when your spouse opens a conversation in a destructive way, you can choose to respond in a Godly way. Showing sacrificial love, self-control and empathy is the hallmark of a mature Christian. Doing so early in an escalating conversation can prevent a destructive argument.
Proverbs 19:11 – A person with good sense is patient, and it is to his credit that he overlooks an offense.
Understand that your spouse will sometimes have a bad day and may speak without thought or wisdom. Being patient with them and expressing your forgiveness, love and respect towards them during a time that you have been wronged is also a hallmark of Christian maturity.
As with everything we have discussed so far, communication requires a commitment of time and intention. The good news is it does not take a tremendous amount of time. Spending 10-15 minutes catching up daily, or spending an hour over coffee each weekend, pays off huge dividends over the long haul of a marriage.  Dividends that increase intimacy and builds a friendship that lasts a lifetime.
https://threestrandsministry.com/wp-content/uploads/2018/07/Tongue.png
800
800
Michael Curtis
http://threestrandsministry.com/wp-content/uploads/2018/05/Three-Strands-Ministry-Main-Logo-White-300x147.png
Michael Curtis
2019-08-25 21:05:33
2019-08-27 08:52:12
7 Weeks to a Better Marriage Week 4 - Communication