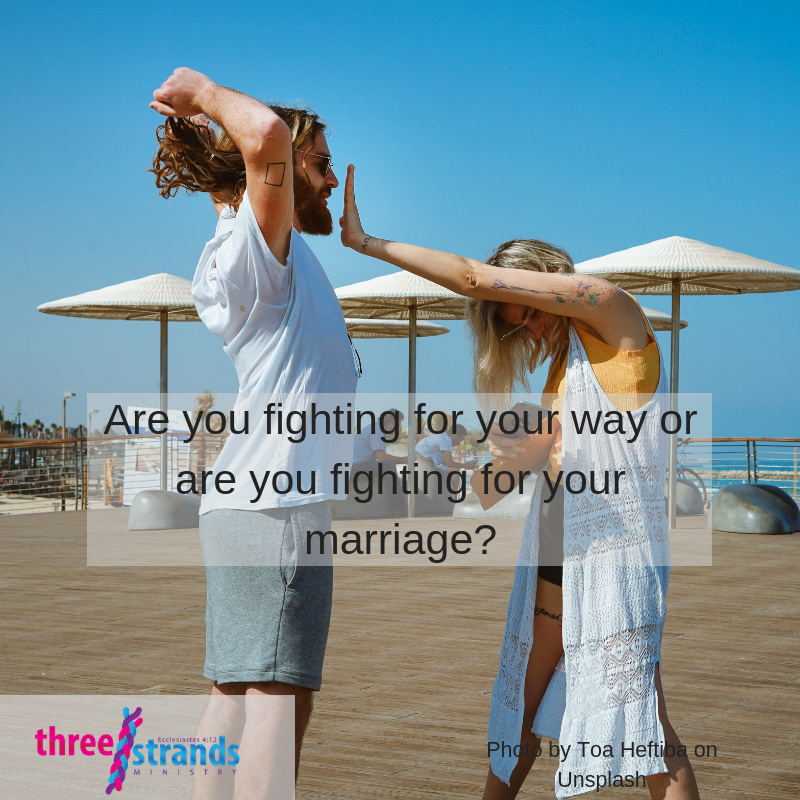 Over the last week we have been exploring how to fight better.  We have discussed the soft start-up, repair attempts, compromise,  influence and soothing.  This week we will wrap up this series by considering the overall goal of your fight.  When a fight kicks off there is a gap between the time something happens to anger you and your response.  In this gap you have a choice to make.  Will I fight for getting what I want or will I fight for the unity of my marriage?  When the wrong choice us made, especially over the long haul, it is disastrous to a marriage.
In marriage, we are called to sacrificially serve one another in a way that builds unity in a marriage.  We are called to submit to one another looking out for the best interests of the other.  We are called to humility; admitting wrongs and asking for forgiveness when needed.  We are called to pursue each other in ways that show how much the other person means to us.  We are called to "die" to self and seek the other person's needs before we seek our own.  When we do this we turn towards one another instead of away from each other.  We understand that when we fight, we are fighting for our marriage,  not to get our own way.  We recognize that our spouse is not our enemy but is our ally.
If you get married you will have trouble (1 Cor 7:28).  God will often use your marriage to change you more and more into the image of His son, Jesus.  That growth is not an easy process and we often fight against it by fighting with our spouse.  Additionally, you have an enemy that hates your marriage.  Satan stands against your marriage as it is a reminder of God's relationship with His people.  Jesus said "In this world you will have trouble, but I have overcome the world."  Though selfishness, pride, hatred, disunity and Satan all stand against your marriage, they are no threat to the God of the universe that is holding your marriage together.  In unity, with each other and with God, we can stand against the powers of this world that seek to undermine our marriages.  In unity we can stand together, lifting the shield of faith against the arrows of the enemy, and overcome any attempt to undermine our marriage.  In unity, we can turn towards each other, rely on each other, and bear each others burdens instead of turning away from each other and accepting defeat.
This mindset requires the power of the Holy Spirit and a commitment to following his lead.  Considering this before you get into a fight helps frame the fight in a way that builds your marriage instead of undermining it.  Being thankful for the blessing you have been given in marriage on the good days helps you remember the blessings on the bad days.  Listening to the Holy Spirit at the beginning of a fight helps resolve the issue more effectively.
https://threestrandsministry.com/wp-content/uploads/2018/10/Photo-by-Toa-Heftiba-on-Unsplash.png
800
800
Michael Curtis
http://threestrandsministry.com/wp-content/uploads/2018/05/Three-Strands-Ministry-Main-Logo-White-300x147.png
Michael Curtis
2019-09-07 08:37:37
2019-09-07 08:37:37
7 Weeks to a Better Marriage Week 4E- Fighting the Good Fight