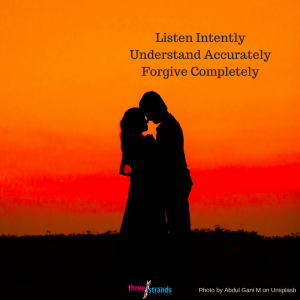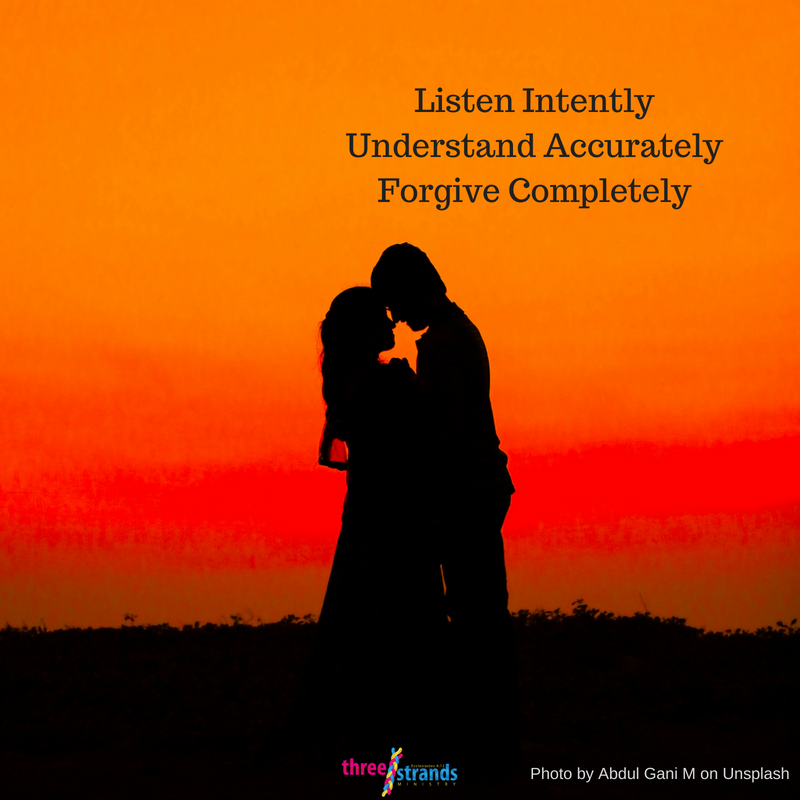 Neil Armstrong, after his walk on the moon, went on tour around the world in the late 1960s. While visiting Japan, a school age child asked Neil through an interpreter what it was like to walk on the moon. Neil responded "I didn't see the man on the moon and there certainly wasn't any cheese."  The interpreter translated these comments as "there was no mama rabbit or her babies." The question is, was this an accurate interpretation?
You might not think so but what the interpreter did was take into account both Neil's culture and the children's culture. In Japan, their fairy tails concerning the moon has to do with a mama rabbit and her three babies. In fact, the interpreter did a great job interpreting for the children.
You maybe asking yourself what this has to do with marriage. The difference between men and women are significant and the reality is we have to spend a lot of time interpreting, decoding, and generally trying to figure out what's going on. It's not an easy task especially when you are undermined by insecurity, fear, anger, and frustration.
In previous post I have pointed out that fighting is not a bad thing in a marriage. Dr. Emerson Eggerichs,  in his book Love and Respect, points out that it may in fact be God's will. So how can we fight using a method that allows us to grow as a couple while not undermining our relationship. Here are a few thoughts:
DECODE
In general a person never says what they really mean when they are angry, frustrated, or feeling neglected. It is important for both parties in the fight to decode what the other person really means. When one person says to the other "You never pick up around here!" it is doubtful that's what they really mean. It may be they are feeling taken advantage of or taken for granted. When a person complains about lack of sex they could be alluding to the fact they are missing intimacy. The challenge is you both have to remain calm enough to see the underlying meaning of the conversation.
LISTEN TO UNDERSTAND
Most people listen while at the same time formulating their response. Although they may be hearing the other person speak, they are actually processing a way to communicate how they are right or what they need. Listening to understand requires focus, empathy, and a heart that understands that it is often more important to be united then to be right. Using phrases like "as I understand it what you're telling me is" or "what you're saying is" may not be the most natural way to talk but it is effective. It does require some practice but is well worth it in the end. It bears remembering that we are called to treat other people as more important than ourselves, especially our spouses. That means we should eliminate eye rolling or any other dismissive gestures that communicate disrespect or undermine us giving people the dignity they deserve. Nothing expresses to another person that they are important more than being fully listened to and understood.
GIVE SECOND CHANCES
Because we often don't say what we mean when we are angry and frustrated, it is important to give each other second chances in conversations and fights. Remember to look at the person's heart instead of just listening to what they say. When someone says something that hurts, you may respond by simply saying "ouch, that stung." This simple statement can often bring a person who is reacting in anger and frustration back to the point of being able to have a good conversation.
COMMIT TO FIGHTING NAKED
This has a double meaning. First, it may be helpful for you to simply fight physically naked. I personally recommend you do this in your own house because if you're doing it at the mall there may be a problem. It is difficult to stay mad at somebody over something silly when you are physically naked. The second meaning is be emotionally naked. This means being vulnerable and sharing what is really going on in your heart. This required you to be open with your perceptions and emotions. This is exceptionally difficult for many people. Men in our culture are taught to push down their emotions instead of evaluating them. Many women have been abused and simply won't trust their heart to another person. However, the work you put into vulnerability is one of the key factors that allows you to have a relationship that reflects the "cleaving" relationship mentioned in Genesis. To this day I still struggle with vulnerability and it is one of the key areas where God is working with me. There are limits in our culture on expressing emotions appropriately, and rightfully so. However, within the marriage, being vulnerable and expressing emotions appropriately are the key factors in developing a deep, lifelong relationship.
Vulnerability, actually listening and decoding are often the keys to deeper relationship through effective fighting.
http://threestrandsministry.com/wp-content/uploads/2018/05/Three-Strands-Ministry-Main-Logo-White-300x147.png
0
0
michaelccurtis
http://threestrandsministry.com/wp-content/uploads/2018/05/Three-Strands-Ministry-Main-Logo-White-300x147.png
michaelccurtis
2018-05-24 12:24:43
2018-05-25 05:10:35
Fighting the Good Fight