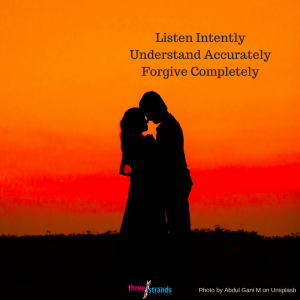 This week we started this series with an intro to Fighting the Good Fight and discussed a Soft Startup.  We followed up with Repair Attempts.  Now we want to focus on compromise.
Work to Compromise
Since 69% of arguments will never be completely resolved, compromise is often the best we can expect from some of our differences.  Compromise takes place when we attempt to understand our conflicting needs and then explore ways those needs can be better met. One of the best examples is frequency of sex.  Research indicates that over a lifetime a man will desire sex six times more often than women. Tommy Nelson, author of The Book of Romance, said that if God had given man and woman the same sex drive as the man, there would be children everywhere but we would all live in caves because we would never have time for planning or building houses.  If God had given both man and woman the same sex drive as a woman, we would have lived in a very highly advanced culture, for one generation. Then mankind would have disappeared from the face of the earth because we would seldom have sex.  This, of course, requires compromise. Ryan and Celina Fredericks,  authors of Fierce Marriage, often talk about how they resolved this issue themselves. He determined he needed intimacy/sex 3-4 times a week. She did not need it anywhere near that often and was often exhausted raising two children.  The compromise, their goal would be three times a week and he would settle for two times a week when she had a rough week with the children. They then entered the time for twice a week in their calendar as a reminder so she did not forget, which had been a problem historically. He agreed to be flexible based on her needs and challenges of the day.  This is a great example of how couples can talk through issues and then come to a compromise.
Have a Plan
When issues arise, take the following actions:
Work to identify the real need – As we have discussed before, often our fights are not what our fights are about.  Try and work together to discover what the real issue is.
Explore possibilities of how those needs can be better met.  Allow the other person to influence your thinking and agree to try different ways until something works.
Choose an option and try it for a short period of time until you find something that works.
This course of action often requires patience, sacrifice, compromise, a dedication to peace, a gentle approach and not just a little self control.  Sound familiar?  Remember, a really joyous marriage is not possible without the indwelling spirit of Christ, and that always produces the fruits listed above.
A Final Note
If the topic is an emotional one, the three steps above may requires three separate conversation.  One to identify the problem, one to brainstorm solutions and a third to choose an option to try.  There is nothing wrong with breaking these into three different discussions as you work through your issue.  In fact, many therapist recommend that very thing.
https://threestrandsministry.com/wp-content/uploads/2018/05/Decode.png
800
800
Michael Curtis
http://threestrandsministry.com/wp-content/uploads/2018/05/Three-Strands-Ministry-Main-Logo-White-300x147.png
Michael Curtis
2019-09-04 07:25:46
2019-09-04 07:25:46
7 Weeks to a Better Marriage 4B - Fighting the Good Fight Week